How to get started on OnlyFans - Planning
Starting an OnlyFans business isn't all that complex, but there is some planning involved. You should do the following before creating an account on the platform so you can start off strong.
Pick a niche
Picking a niche before making an OnlyFans account is the best way to start an OnlyFans.
Your niche is the main content idea your OnlyFans will revolve around. Some trendy niches on the adult platform right now are:
Gamer girl
Hotwife
Bull
Amateur
Girl next door
Hardcore
Your niche determines how explicit your content is and the kind of clothing you wear. It can also influence your attitude and demeanor toward your audience.
It's up to you to decide what to go with. Most creators settle on a niche that interests them personally, which is what I recommend you do as well.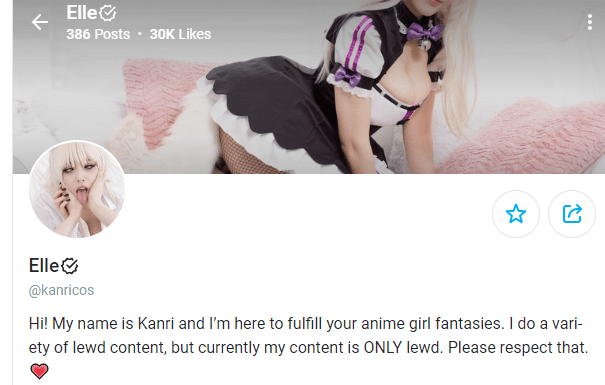 Choose a niche before starting an OnlyFans. Here's a creator in the anime girl niche.
If, for example, you're looking to learn how to start an OnlyFans for feet pics, your niche would be in the foot fetish market.
Whether or not you show your face is also something to consider while selecting your niche. And just in case you're wondering how to start an OnlyFans without showing your face, we have an in-depth guide.
Think about your posting schedule
OnlyFans will likely take up more of your time than you think, especially in the first weeks. Put some thought into your posting schedule. Think about how often you're going to post and when you're going to shoot content.
I recommend posting at least once a day until you have a sizeable following. Producing enough content to satisfy such a schedule can be time-consuming. You'll need to dedicate a day or two of your week to shooting alone.
Create a backlog of content if you have something else to manage along with your OnlyFans. That way, you'll be able to hit the ground running.
Setting up your profile
You probably already know how to create an OnlyFans account. But, just in case you're wondering how to sign up for OnlyFans, know that the process is relatively simple.
It's exactly like creating an account on any other social media platform. It involves email verification.
With that out of the way, let's learn how to start an OnlyFans career that actually generates money.
Set your Username and Display name
OnlyFans assigns you a random username when you sign up. You'll have to change it manually to something more suitable for your business. Your username acts as the URL of your profile.
Keep in mind that you can only set your username once. You can't change it later. So it's worth taking some time to come up with a username you won't be dissatisfied with later.
Your display name will be shown to the general public and your subscribers.
You can change your display name whenever you want. Feel free to pick something that's "good enough" for now and improve it when you have more experience.
Try incorporating your niche into your display name, if you can. That makes you more memorable by giving users something to associate you with.
Add your profile and banner image
Your profile and banner image should both consist of your very best stuff. Go for something exciting and upbeat rather than fully explicit. You want users to have to pay to see you nude.
Don't forget that your banner image has a landscape format. Images captured in native portrait mode likely won't fit very well. You may have to shoot a new image for your profile's banner image.
Write your bio description
Your bio description is equally important to the other profile elements we've gone over. It plays a major role in converting cold visitors who land on your profile to paying subscribers.

Starting OnlyFans from scratch. A well-written bio helps you get more subscribers.
We have an in-depth guide on creating an OnlyFans bio. Make sure you check it out to create the best bio for your profile.
But, essentially, mention what you offer on your OnlyFans. Be clear, specific, and concise, while using fun and engaging language.
Verifying your OnlyFans account
You must verify your profile before you're able to add your payment information. Getting it right on the first try can be a bit challenging, as OnlyFans is rather strict.
Not to worry, though. Read our comprehensive guide on verifying your OnlyFans, and your account will be up and running in no time.
You'll have to wait 24 to 48 hours before you hear back from OnlyFans. But if you follow the steps shared in the guide, you'll most likely get a yes.
Don't worry if you get rejected at first. The email will highlight the reason you were rejected. You can try again after fixing the issue.
Add your payment information
This is where you add your bank account details. Consider creating and using a separate bank account for your OnlyFans.
Doing so will make taxes much simpler for you. And yes, you do have to pay taxes on your OnlyFans income. Once you start earning, set aside about 30% of your income so you can produce the amount you owe when it's time to pay.
Speaking of taxes…
Fill out the w9 tax form
OnlyFans will prompt you to fill out a w9 tax form if you're a resident of the United States. If you live anywhere else, you'll have to fill out a w8-Ben form.
The forms may look intimidating if it's your first time having to do anything tax related. However, filling them out is simpler than it seems. We walk you through the process in our guide on filing OnlyFans taxes.
You also find useful information about OnlyFans taxes as a whole in that guide.
Starting an OnlyFans page
Now for the part you've probably been waiting for. Here's how to start an OnlyFans page and make money.
Choose between a free page and a paid page
You can either start a free page or a paid page. A paid page requires users to subscribe to your profile before they can see the content on your page.
A free page, as the name implies, is free for users to subscribe to. However, you can still lock the content you post to your free page behind a PPV paywall. You can also DM your subscribers with pay-per-view content.
If they like your content, they can always tip you as well. The point is, it's possible to make a killing on OnlyFans, even with a free page.
Unfortunately, a free page has its downsides. Most notably, It attracts an audience that isn't too keen on spending money. You may see a less enthusiastic response to your paid content.
I recommend you start a paid page, even as a complete beginner. Price it at an affordable monthly $5-$10 and then increase from there once you have more followers.
May creators eventually end up creating both a free and a paid page. That's an option available to you as well, but it's best to start with a single page. Once it's up and running, you can always create another.
Use bundles and discounts
That was, essentially, how to make an OnlyFans page and price it appropriately. You can also offer bundles and discounts to users. Doing so is especially helpful early on - when it's all about getting those first few subscribers.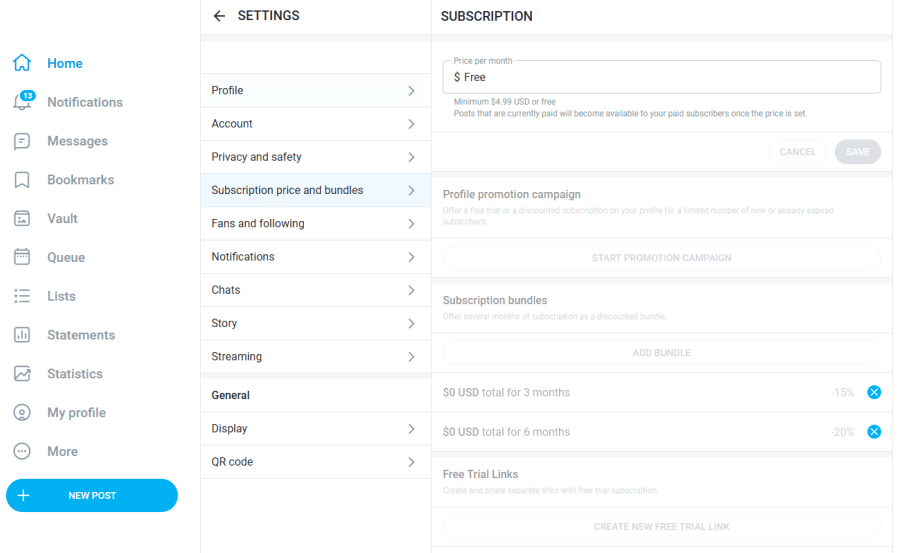 Starting an OnlyFans business - use bundles and discounts.
Discounts encourage users to subscribe, and bundles incentivize longer subscriptions.
Create a welcome message
This is automatically sent to new fans when they subscribe. Thank them for subscribing, and encourage them to check out and engage with the content on your page.
Your welcome message should be warm and have a personal touch to it.
You can also attach PPV media here to get some extra income from first-time subscribers.
Restrict select countries
OnlyFans allows you to restrict users from certain countries from reaching your profile. You can block your country to prevent friends and family from finding out about your account.
Blocking off high-traffic countries could decrease your organic traffic, though. If you block off the US, for example, you'd be taking a major hit.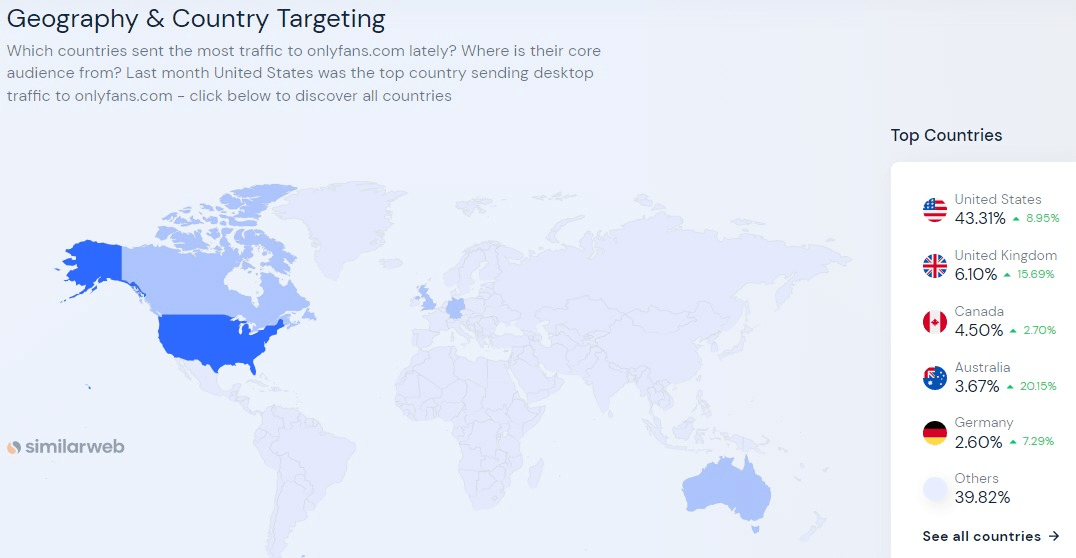 Tips for starting an OnlyFans - block your country for greater anonymity.
It could be a compromise between traffic and privacy. Ultimately, it's for you to decide what you prefer.
Hide your follower count
You can hide your follower count via the settings menu. Doing this when you start off is important because you have no followers. Adjust this option in the settings menu.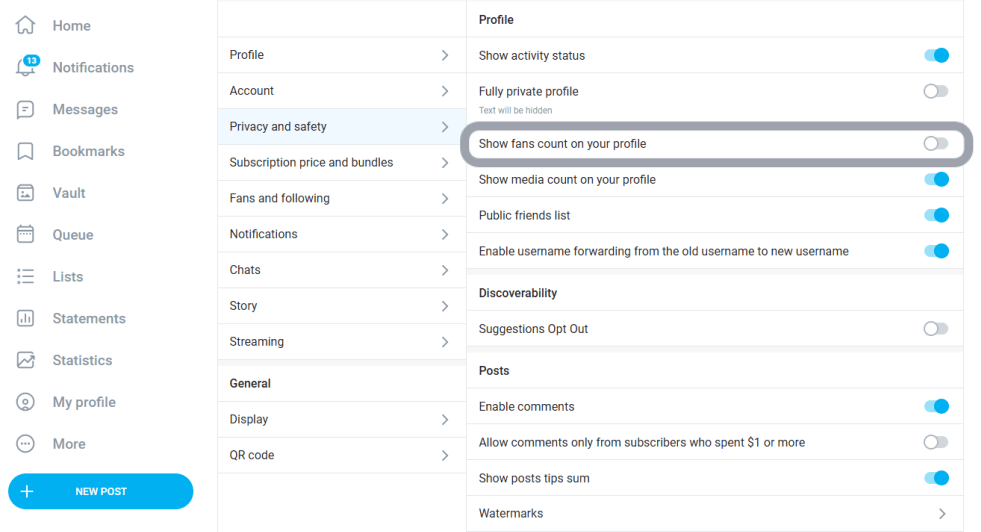 Tips for starting an OnlyFans - hide your follower count initially.
There is such a thing as social proof, even on a platform like OnlyFans. Users are naturally less likely to subscribe to creators who don't have a following.
The only get around this issue is to hide your follower count until you have at least a few dozen subs.
Producing content for your OnlyFans
Your OnlyFans profile and page should both be set up at this point, but the page will still be empty. It's time to decorate it with some posts.
You will need to create three distinct types of content for your OnlyFans business.
1. Content for your OnlyFans page
This is the content you'll be publishing on your page. Post high-quality content here to retain subscribers for longer. Make them feel like they got their money's worth, but reserve the best of the best for PPV content.
You have a lot of creative freedom here. Explore your niche and have fun while you do it. Stick with what gets you the best response, but venture outwards from time to time.
2. Content for social media promotion
This can still be NSFW content but slightly toned down, so it's more appropriate for use on social media.
Depending on where you're promoting, you may want to avoid nudity entirely. To avoid getting banned, but also to give viewers more of a reason to click through to your OnlyFans.
Images work best for promotion. Videos are technically better for engagement, but they also require more resources to produce.
3. Pay-per-view content
Your most explicit and extreme content, but also your most lucrative. You'll share this content with your subscribers via DMs and lock it behind a paywall.
PPV content is how the top creators generate the bulk of their OnlyFans income. These are usually videos more hardcore or extreme in nature than what you post on your page.
You can focus on your page when you start and DM your subs PPV content later down the road.
Your first post
Now, what should your first post on OnlyFans be?
There's no hard and fast rule here. But if you're strapped for ideas, simply go with a pleasant image of yourself along with some welcoming text. Tell your subs what's coming next. Pin the post to the top of your page.
Giving your subs an intro post so they know what to expect is better than posting explicit content right off the bat.
You should aim to post content to your page at least once a day initially. Some creators recommend posting as frequently as thrice a day. Doing so helps you get your feet off the ground faster.
Dedicate a day or two every week to producing content. It's best to create content in batches, especially if your niche requires you to have an elaborate setup or wear fancy clothing. You can then schedule posts throughout the remainder of the week.
Contrary to popular belief, you don't need an expensive camera or lighting setup to create high-quality images and videos.
A modern smartphone with a decent-quality camera will suffice. Here's a guide on getting the most out of your smartphone's camera.
Be sure to shoot in the daytime, when it's naturally bright.
I recommend getting a ring light and a tripod if you can. You can improve your setup as you go.
It's worth learning how to use a photo editing tool such as Canva to brush up your images. Your editing tool will also let you add a watermark to your content to prevent it from being stolen.
Promoting your OnlyFans
You could have done everything perfectly up until this point. But, if you don't promote your OnlyFans, it will take ages to get your first subs.
OnlyFans doesn't have an internal search algorithm. And you can't expect the platform's creator recommendation system to work in your favor.
Unfortunately, new creators don't have much visibility on the platform.
Instead of leaving things to chance, actively promote your OnlyFans. Draw visitors from external sources, such as social media.
The best way to draw subscribers to your OnlyFans is by promoting on Reddit.
There are thousands of NSFW-friendly subreddits fit for promotion, already being used by the best creators to rake in tons of subscribers willing to pay top dollar for the hottest content.
Social Rise helps you automate your Reddit promotion so that it takes up only a few minutes of your day, letting you focus your time and energy on creating content your subscribers will love.
Use Social Rise to schedule your Reddit posts for the best times. Get the most engagement and draw tons of subs to your OnlyFans. It's free, so try it out today.
Gain more OnlyFans subs on Reddit
No credit card needed
Sign in with Reddit
Post in minutes
FAQs about creating OnlyFans account
How do I start an OnlyFans?
Getting started on OnlyFans is easier than you think!
Start by picking your niche, and think about the type of content you intend to post. It's okay to only have a vague idea at first. Then, create OnlyFans account and set up your profile. Make sure to give some time to your images and bio description.
You'll have to go through a verification process, after which you can create your page and start posting content.
How to start an OnlyFans as a guy?
All of the advice above applies to both guys and girls. So, whether you're wondering how to start an OnlyFans as a guy, or how to start an OnlyFans as a woman, the overall process remains the same.
However, it is worth mentioning that as a male content creator, your audience on OnlyFans could be a male majority. OnlyFans' overall user base is 70 to 80% male.
Which is to say that you will want to identify what your target audience is and put some thought into working out how you can create content to attract it.
Whether you're starting an OnlyFans as a woman or a man, you will need to have a niche to grow on the highly competitive platform.
How to start an OnlyFans with your partner?
Making an OnlyFans account if you have a partner is slightly different. When you're going through the verification process, both you and your partner will need to upload your IDs and sign a release form.
OnlyFans only allows you to upload a single image for either entry, so you'll need to capture both IDs in a single image.
What do you need to start an OnlyFans?
You really don't need anything other than your smartphone and a place to shoot content to start.
What about costs? How much does it cost to start an OnlyFans?
It doesn't cost you anything. Starting an OnlyFans business is free. OnlyFans only takes their 20% cut on the amount you earn.
Conclusion: How to start an OnlyFans account
And you're all done. Now you know how to make a successful OnlyFans and grow it into a money-making business.
To conclude, here is an overview of the tips for starting an OnlyFans business:
Pick a niche and think about the content you will be posting. This is the best way to start OnlyFans.
Set up your profile. You likely already know how to make an OnlyFans account. Pay special attention to your username, display name, profile and banner image, and bio.
Go through the verification process. Expect it to take anywhere from 24 to 48 hours.
Start your OnlyFans page. Create a paid page with a low subscription cost at first. Use bundles and discounts to promote your page.
Create a welcome message, restrict certain countries if you have to, and hide your follower count in the settings menu.
Start producing content for your OnlyFans page and DMs. Produce content for social media promotion as well.
Promote your OnlyFans using Reddit to pull subs from the platform. Do it with Social Rise for free.