Best OnlyFans content ideas
Nudity-focused images and videos are the bread and butter of content on OnlyFans. That said, selfies, nudes, and videos showing you doing naughty stuff will only get you so far. To draw in new subs and keep existing ones hooked to your page, you need to give things a unique spin.
Here are some OnlyFans ideas you can use to diversify your page and make it more appealing.
Behind-the-scenes content
BTS shoots are a great way to add long-form video content to your page. Show your audience what goes into producing the content they see. Or, just have them tag along as you go about your favorite activities. Be your usual self and maybe crack a dirty joke or two to keep things fun.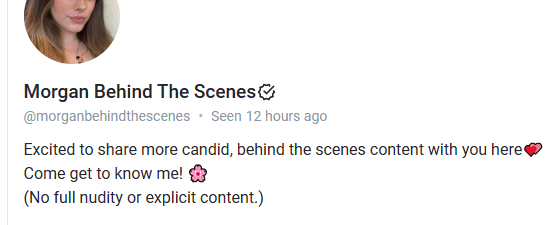 Content ideas for OnlyFans - A dedicated page for behind-the-scenes content.
Consider doing behind-the-scenes content shoots if you've been looking for OnlyFans video ideas. Any exciting moments during the shoot can also double as OnlyFans pictures and gifs.
Viral challenges, dances, and trends
Viral trends on social platforms like TikTok are great content ideas for OnlyFans. Dances to popular songs, for example, often go viral.
You don't have to be an experienced dancer to replicate most viral dances. Their simplicity is part of what allows them to go viral in the first place. Give it your best shot. Even if the dance comes out looking a bit clumsy, your fans will enjoy your take on it.
Fitness related content
Into fitness? Record yourself during an intense workout session! Tell your fans about your current workout routine and diet plan. And maybe share with them your impressive fitness journey.
You do not have to be in the fitness niche for this to be suitable content for your page.
Even if your everyday content is based on an adult niche totally unrelated to fitness, you can experiment with fitness-related content to see how your fans react.
There is a large market for semi-nude and fully-nude fitness content on OnlyFans. And this is a market you can easily tap into on the side. All while having your every day remain centered around your primary niche.
So, consider adding fitness content to your list of OnlyFans page ideas.
Cosplays and roleplaying
Die-hard anime fan? Cosplay your favorite character!
Cosplaying is a huge niche on OnlyFans. That said, it's very common for creators in all niches to do a cosplay every now and then.
Purchasing or tailoring a full set of clothing to match your target character's appearance can be somewhat costly. Don't let that stop you from dressing up as your favorite characters and having fun, though!
Feet pics
Wanting to make a killing on OnlyFans without showing your face? Selling feet pics can be incredibly lucrative. The top creators in this niche are able to rake in thousands of dollars per month. Getting started is easy; all you need is a smartphone.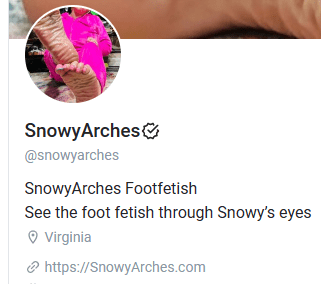 Onlyfans picture ideas - feet pics are excellent OnlyFans photo ideas.
If you're interested, check out our complete guide on selling feet pics on OnlyFans to learn exactly how it's done, step-by-step.
Keep in mind that most feet-related content is image-based. Videos are uncommon. So, if you're looking for easy OnlyFans photo ideas, consider adding feet pics to your timeline.
Holiday-themed content
Use upcoming holidays for some easy OnlyFans ideas. A holiday can influence your clothing, your choice of props, or your background and setting.
Certain holidays also present prime opportunities for roleplay. For example, you can dress up as a vampire on Halloween for some spooky (and erotic) content. On Christmas, dress up as Santa or an elf. Prime OnlyFans picture ideas!
You can also consider doing something special for US-specific holidays. Despite being headquartered in the UK, over 40% of OnlyFans' traffic originates from the US. The second highest traffic source is the UK, at roughly 6%.

Content ideas for OnlyFans - OnlyFans' traffic distribution.
Unfortunately, OnlyFans does not present you with detailed stats for your following.
However, you can use polls to collect this information manually and create effective OnlyFans post ideas based on upcoming holidays in their locations.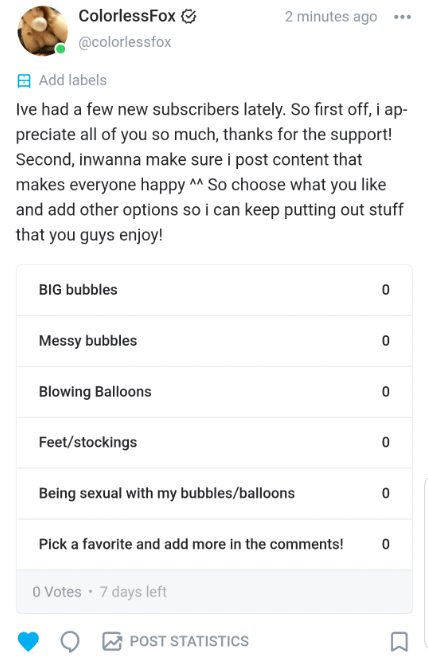 Use OnlyFans polls to get the best picture ideas.
Product reviews
If you're a newer creator, you probably won't be able to strike a sponsorship or a brand deal immediately. However, you can still review products you use yourself to create extra content to post on OnlyFans and help out interested members of your audience.
Review adult items and sex toys, wearables such as lingerie and bikinis, or your favorite makeup kits or fitness equipment. Lingerie or bikini reviews can also double nicely as OnlyFans photoshoot ideas and provide you with pictures to use on your profile.
If reviewing a physical object, such as a makeup kit or a set of acrylic nails, you can mix in some elements of ASMR.
QAs and live streams
Like behind-the-scenes content, QnAs and live streams are an excellent way to connect with your audience and allow them to get to know you better. Your subs will stick around for longer if you develop a more personal connection with them.
Growing an OnlyFans isn't only about attracting new subs. Getting your current ones to stay is just as important.
Hot tub streams are quite trendy these days. You can also aim for a more laid-back atmosphere. Engage in cooking, reading, or gaming. All while having an intimate conversation with your fans and answering their queries.
Custom content
Once you have built up an audience, you can start doing custom content. Not only can this be very lucrative, but it also allows your subs to come up with creative content ideas for OnlyFans for you.
Custom content often ends up being some of the best content for OnlyFans profiles, so be sure to try it if you have fans willing to pay for the added service.
Couple content
If you and your significant other are willing and interested, you could try out some OnlyFans couple content ideas. There's a huge market on OnlyFans for erotic content from couples, and some of the most prominent creator profiles feature couples and pairs.
How to make good OnlyFans content
Not sure how to take pictures for OnlyFans to see better engagement? Here are a few tips you can use to create high-quality OnlyFans pictures and videos.
Invest in better equipment
The quality of your camera equipment is directly tied to your image and video production. Don't be discouraged if you don't have an expensive digital camera. You can start an OnlyFans with just a smartphone, as many of the top creators today once did.
However, when you do start making an income from your OnlyFans, consider reinvesting in your business and upgrading your equipment.
Digital camera. A high-quality digital camera will produce better-looking, crispier OnlyFans pictures. A modern smartphone will suffice, though, especially if you have one of the latest flagships.
A tripod. A tripod will allow you to take images and record videos from more angles and perspectives, making the content on your timeline more varied and diverse. It also makes photoshoots a lot more convenient for you.
A ring light. Lighting influences image quality dramatically. It will help you obtain better shots, especially during the nighttime or in rooms that don't have exposure to a lot of natural light during the day.
A microphone. Video and audio quality go hand-in-hand to improve your viewers' experience. A small, discrete microphone will come in handy for BTS content, ASMR, live streams, QAs, and prerecorded voice notes.
Some creators even go as far as to rent out professional studios to film top-tier content. Of course, this can be rather expensive, but it's something worth considering if your page is paying off well and you're passionate about producing the best content for OnlyFans you can.
Learn how to shoot and edit content
Use online guides like this photography guide from Hubspot to learn how to make the most of the camera equipment you have.
It's also worth learning light photo and video editing skills on free tools such as Canva to brush up your content once you're done shooting.
Use different backgrounds and settings
Wondering how to make exciting and diverse OnlyFans content? Switch up your background and settings frequently.
This is one of the best ways to maintain variety in your portfolio of OnlyFans pictures and videos. Try shooting content in locations other than a standard bedroom - your living room, kitchen, and shower, for example.
If you're looking to remain anonymous, remember to remove any personally identifiable objects visible in your background before shooting.
Also, make sure your background is clean and orderly. If you're in the amateur niche, you don't need to have your room spick and span, but cleanliness is still desirable.
Use engaging captions
Good OnlyFans content needs engaging captions to go along with it. Captions can do a lot for your posts by making the attached visual content more appealing.
That said, it's understandable not to want to spend time cooking up original and creative captions for every post. Which is exactly why we have a free OnlyFans caption generator for you.
Simply enter your niche, and the tool will provide you with an assortment of well-performing captions you can pair up with your OnlyFans pictures and videos to create engaging posts.
Tips for OnlyFans content
Now that you have a list of OnlyFans content ideas to fall back on when your creative juices stop flowing, let's also go over some tips for OnlyFans content that will allow you to be more efficient and effective with your content production process.
Have a well-defined niche
One of the first things you should do when you start an OnlyFans is to decide on a niche.
Unfortunately, competition on the adult video-sharing platform is at an all-time high, and you need to niche down to have a better chance of competing and standing out. OnlyFans reported having 2.1 million creators in 2021.
We haven't had a more recent update on this statistic, but given past growth trends, it's safe to assume that the total number of creators on the platform is now well above 3 million, likely closer to 4.
Having a niche reduces the number of creators you have to compete with. But not only that - it also allows you to come up with video and photo ideas for OnlyFans much more easily.
Research your audience
Think of your OnlyFans as a business. And for any business today, audience research is crucial. You need to find out the type of OnlyFans content your audience is most interested in and present it to your subs on a silver platter.
The easiest way to research your audience on OnlyFans is, quite simply, to ask them. Use polls to gather information about your fanbase's interests, encourage your subs to share their thoughts by using enticing post captions, and engage in back-and-forths in the comments when you can.
If you're a newer creator without an existing following, you'll find Reddit an excellent place to gather ideas. This social media platform has thousands of NSFW-friendly subreddits, full of users with tastes and interests that resemble those of your ideal audience.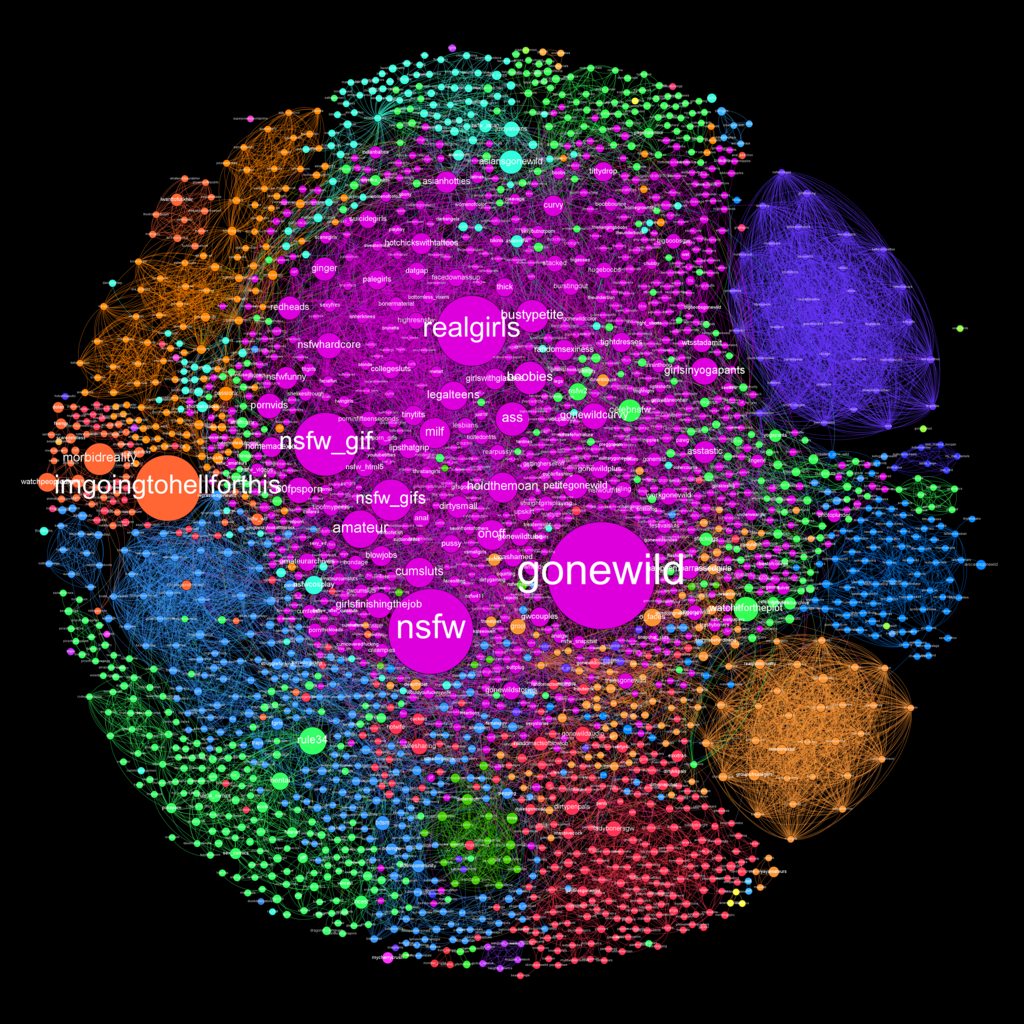 OnlyFans post ideas - researching your audience helps you come up with effective OnlyFans ideas.
Learn from the top creators in your niche
We can't recommend you outright copy OnlyFans ideas from your competitors. But it's fine to draw inspiration from their posts and use them as OnlyFans content examples.
Analyze the best-performing creators in your niche, and find out what it is about their content that makes them so attractive to the platform's user base.
Shoot content in batches
This is simply the most time-efficient way to do it. You want to shoot a few days - or even weeks - worth of content in a single photoshoot session and then schedule it for posting.
Experienced creators usually only dedicate a day or two of their week to shooting. By being efficient, they get to take more time off.
Post consistently
Posting consistently is especially important when you're just starting out and don't have a lot of content on your page.
If a user subscribes to your page only to find all that they get to see are a couple of images, you can bet that they'll be disappointed with their purchase.
It's a good idea to have a batch of roughly a dozen pieces of content ready when your page goes up, just so your timeline isn't completely empty.
Post with consistency; about once a day is great. Some creators post several times a day. Posting too frequently can come off as spammy, especially if it's low-effort, filler content.
Types of content on OnlyFans
There are several types of OnlyFans content, and we can categorize them in the following three ways to keep things simple.
Content for your OnlyFans page
This is the content that goes onto your free or paid page. Now, if you have a free page, you can't post fully explicit content without locking it behind a paywall. But you can give your free audience teasers and tell them what to expect from subscribing to your paid page.
If you have a paid page, anything not against the platform's content guidelines goes. The content you post to this paid page should be some of your highest quality work, so your paying subs stick around for longer.
That said, you want to save your very best content - the cream of the crop - for use as PPV content.
PPV content
PPV (Pay-per-view) content is locked behind a paywall, and users must pay a certain sum to unlock access to it. PPV content can be incredibly profitable, and for many creators, it ends up being the largest contributor to their OnlyFans income.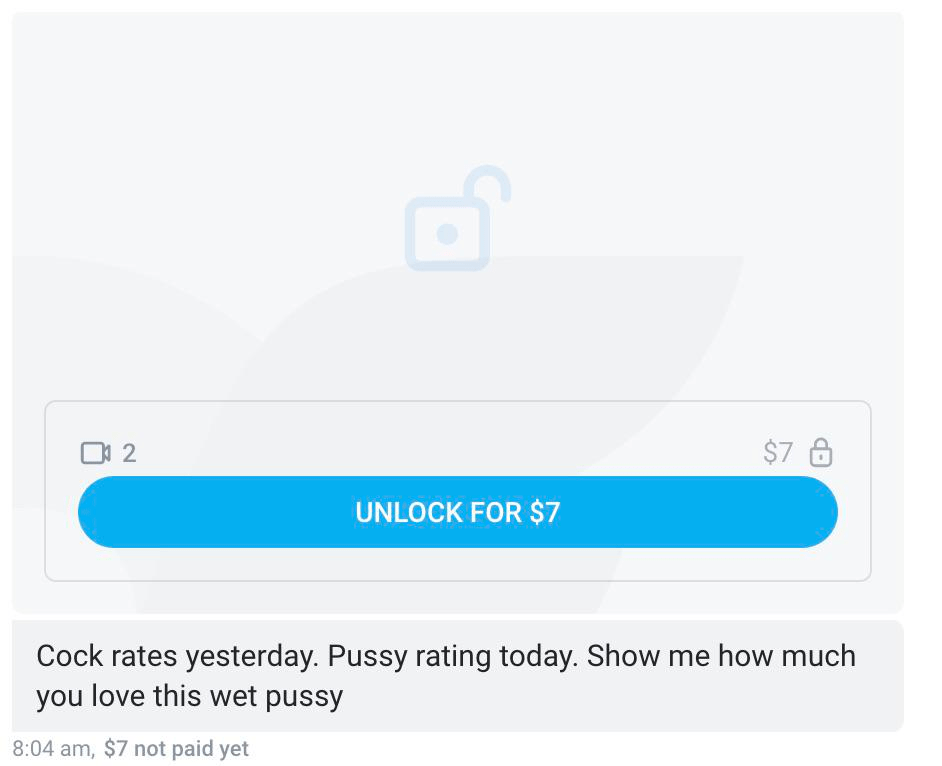 OnlyFans content examples - pay-per-view message.
You can send PPV content to your fanbase by posting it on your free page or sending it to users via DMs. Both strategies work well, but as you can imagine, the latter is much more intimate.
Save your naughtiest, spiciest, more extreme content for use as PPV content delivered via DMs if you want to make the most money.
Content for promotion
Promotional content is far too important these days to simply gloss over. If you're running OnlyFans with the hopes of turning a profit, you need to promote yourself on NSFW-friendly platforms such as Reddit to draw traffic to your page and get more subs.
The good news is that it's probably simpler than you think. All you have to do is take some of your milder content and upload it to suitable subreddits, with a link to your OnlyFans for those wanting to see more.
Here's an in-depth guide on how to promote OnlyFans on Reddit.
While self-promotion is effective, it can also take up much of your daily time - if you do it manually.
With Social Rise, you can automate your Reddit promotion by instantly scheduling posts across multiple subreddits in a few clicks. Save time and get better results. Sign up for free today - no credit card required.
FAQs about OnlyFans ideas
What is the most popular content on OnlyFans?
The most popular content on OnlyFans falls into the adult or NSFW category. The most popular content format is images.
There is some SFW content on OnlyFans. It tends to be instructional content around cooking, fitness, modeling, makeup, and more.
For your page, the best content for OnlyFans is that which interests your subscribers and allows you to keep them around for longer.
How to take good pictures for OnlyFans?
Even if you're stuck with not-so-good equipment, there's a lot you can do to improve the quality of your OnlyFans pictures simply by playing around with lighting, camera angles, and your camera application's settings.
Lighting quality deserves special attention because it alone can make or break images. Make sure you're shooting in a well-lit room with exposure to plenty of natural light during the day. You could also get a ring light if your set isn't very well-lit.
If you're looking for new OnlyFans photoshoot ideas, try doing a shoot in your living room. Not only do you change your background, but you also get more natural light for your shots.
What content to post on OnlyFans?
Not sure what content to post on OnlyFans? In addition to nudes and selfies, try mixing things up with dances, cosplays, product reviews, and custom content. Feet pics make for great OnlyFans photo ideas.
If you need some more OnlyFans content ideas, try behind-the-scenes shoots and live streams. These are both excellent long-form OnlyFans video ideas you can use to add more videos to your feed and connect with your audience on a deeper level.
What are some good OnlyFans content ideas for guys?
The OnlyFans content ideas mentioned in this guide will work for guys, girls - and all genders really - so feel free to try them out.
That said, you should consider that as a male content creator, a significant portion of your audience will be gay and bisexual men. This influences the types of OnlyFans content you have to produce and the social hubs you have to self-promote to to see the best results.
Conclusion: Ideas for OnlyFans content
We hope this post helped you come up with some OnlyFans post ideas for your page. To sum things up:
Mix things up with various content types. Livestreams, QAs, and BTS content make for great OnlyFans video ideas. Feet pics and cosplays are excellent OnlyFans picture ideas.
Invest in better equipment to make good OnlyFans content. A digital camera, a tripod, and a ring light are the first items you should pick up.
Learn how to shoot and edit content. Even the best OnlyFans content ideas won't be very useful if you can't turn them into good OnlyFans content.
Switch up your background. This keeps your page varied and helps if you're struggling to develop new ideas for OnlyFans content.
Have a well-defined niche. It lessens the competition you have to go up against and gives you a clearer vision of what to post on OnlyFans.
Conduct audience research. Coming up with OnlyFans ideas is difficult if you don't know what your audience wants. Ask them in the comments or research their tastes on social platforms like Reddit.
Shoot in batches and post consistently. This helps you be productive and remain efficient. Posting consistently is important to build up a solid page, especially when you're starting out.
There are three broad types of content on OnlyFans. Content for your free/paid page, PPV content, and promotional content. Keep your best content for PPV and deliver it to your subs via DMs.