Can you make money on OnlyFans without showing your face
Yes, you can join OnlyFans without showing face. There's no rule against it!
But content creators who show their faces usually get more subscribers. So, knowing this, do you have to show your face on OnlyFans?
No! Follow the tips in the article, and the next thing you know you're competing with the best in the business.
But first, you'll learn the precautions to stay anonymous and become one of the no face OnlyFans creators.
Use a fake name
First, you have to create an account. For that, think of a fake name. Using your real name is a big no-no on how to make money on OnlyFans without showing face. Be creative - you can pick literally anything! A name generator can also help!
You need a fake name for making money on OnlyFans without showing face.
Using your nickname or any variation of it is also a bad idea. Both increase the risk of getting recognized. People who know you can connect the dots even if they can't see your face.
For your profile, you'll also need a photo and a description. Avoid including any personal details in these either, but more on that later.
However, do use genuine information for your account info. It's safe, and only you can access it. And it's a must to withdraw the money you'll make.
Create a separate email account
While subscribers can't see your email, it's a simple precaution you can take when starting an OnlyFans without showing your face.
Create an email address using the fake name you chose. Use this email for everything related to your no face OnlyFans. It helps make sure fans can't track you.
Use geoblocking
This amazing feature hides your OnlyFans account in the selected countries. It's as simple as adding those in which you don't want to be found.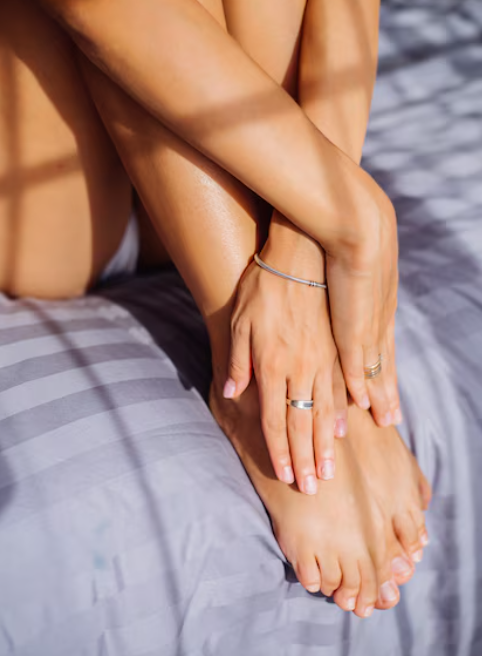 No face OnlyFans creators have an option to hide their profile in specific countries.
You can also block specific people. Add a note about why you blocked them, so you'll remember the reason if they change their name or profile picture.
Once you block someone, wait about 24 hours, and their IP address will appear on the list of blocked IP addresses. You can use it to block them on other social media.
Blocking by IP is also a great way to hide only from family and close friends.
To enable geoblocking, do the following:
Go to the settings.
Find the Security section and tap on it.
Look for Geoblocking and go there.
Add the countries you want to block and save changes.
Keep in mind that blocking a whole country makes it harder to gain subscribers, especially if you're from a large one, like the USA. And blocking a subscriber refunds their subscription.
Hide scars, tattoos, and birthmarks
They can be very unique and can give away your identity. This is why you should hide them.
To make money on OnlyFans without showing face you should also hide other identifying details.
They get ingrained in people's brains, and they quickly recognize them. You can use makeup, photoshop, or take photos from angles that hide them altogether.
Clothing and props can also help, but we'll cover that later.
Pay attention to your surroundings
No advice on how to make money on OnlyFans without showing your face will work if you aren't mindful. One easy thing to overlook are your surroundings.
Taking pictures outdoors and sharing them can reveal your identity. It might seem that blurring your face is enough but it's not.
When starting OnlyFans without face make sure your surroundings don't give you out.
A specific landmark, restaurant, or building you might be in can give away your location. Also, watch out for sunglasses, windows, and even plates.
The reflection on them wouldn't let you stay anonymous for long. Crazy fans love to play detectives. So, you have to do a damn good job at hiding from them.
But you can use the outdoors to your advantage when travelling. Snap a few photos and mislead fans about your true location!
Use a voice changer
The next suggestion on how to make money on OnlyFans without showing face is masking your real voice with a voice changer. Many people sound similar, so is this really necessary?
Voice changer is an extra precaution when running your OnlyFans without showing face.
Well, you likely won't get recognized solely based on your voice. But someone you know can get suspicious after hearing you. And you wouldn't want to take any chances, would you?
It's an extra layer of protection that's easy to implement.
Hide your face with masks and props
This is a grea option if you don't want the hassle of blurring or editing.
Masks not only protect your privacy but also add a unique angle to your content. For example, if you're tattooed you can get a ski mask and advertise yourself as a "thug".
With a mask, you don't have to worry about the angles for your photos.
You can easily hide your face on OnlyFans with a mask.
Pick masks that emphasize your selling points and fit well. Many use masks of stuffed animals. Experiment and see what you like!
How to make money on OnlyFans without showing your face
Now you know how to start an OnlyFans without showing your face but to earn money in this game you need to promote.
It's practically the only way to get a following. So next, you'll find out how to get followers on OnlyFans without showing your face.
Find a profitable niche
For no face OnlyFans creators, particular niches are better than others. There are many options available, and here are some that work well:
Curvy girls
Anything with boobs
Anything with ass
Feet
Muscular or fit
Tattooed
BDSM
Basically, anything that focuses on a specific body part, or isn't common. It makes the face less meaningful in the big picture.
Focus the camera on your body
Can you hide your face on OnlyFans and still make quality content? Of course! But let's be honest here - it does come with drawbacks.
There are likely others who show their face making very similar content. So, how to be successful on OnlyFans without showing your face?
Well, you'll need a different strategy. One way is to focus on a very specific part of your body, so the face doesn't even play a role.
Make all your content that way. People have many fetishes, and getting only one right can be very lucrative. And this is just one way of answering the question "can I make money on OnlyFans without showing my face."
Create social media accounts
Social media is the best way to promote and make money on OnlyFans without showing your face. But don't even think about using personal accounts!
Open new ones with the same fake name and email address as before. Of course, it's not easy starting from scratch, but it's necessary to stay anonymous.
Reddit is the best platform to start with, as you don't need an existing following but can post in communities with many users. Some have millions!
Learn how to promote there like the top 1% of creators in our guide for OnlyFans promotion on Reddit.
In the beginning, it should be your main focus. Later, you can expand to other platforms.
Use tools to gain more subscribers
You can use various tools to speed up your promotion and get better results in less time. Since you'll be starting on Reddit, Social Rise is the best option you have.
It cuts posting time in half, gets you on the hot page, lets you manage content, and automate promotion.
You can use Social Rise to promote your OnlyFans faster.
Many creators find it to be enough in combination with Reddit to make a living without even promoting elsewhere.
5 posts per month are free, and it takes just a minute to get started. But note that you need a Reddit account before you can sign in.
Get more OnlyFans subs on Reddit
No credit card needed
Sign in with Reddit
Post in minutes
Promote on forums
Forums are great for promoting your profile. Also staying anonymous there is really easy. You can search specifically for adult forums but many also have an NSFW (not safe for work) section.
But you'll have to think outside the box, as they don't appreciate blatant self-promotion.
Forums can help you earn from OnlyFans without revealing your face.
Quora is also a great option. You can answer niche-relevant questions and attach an image that lures viewers to your profile where you add your OnlyFans link.
Collaborate with other creators
Collaboration is a risky tip on how to promote OnlyFans without showing face because it's hard to stay anonymous doing it. Your best bet is joining forces with another no face creator, so you both have the same interests in mind.
Other than that, collaborating with others is a great promotional method. It helps you reach a huge and whole new audience.
You can easily multiply the number of subscribers like this.
Pay Others for Promotion
This is a hit-or-miss for making money on OnlyFans without showing your face. It can either get you nowhere or bring loads of new subscribers.
If you're interested in it, there are many agencies you can find online that do this.
How to monetize your no face OnlyFans account
In a nutshell, you can get paid via tips or subscriptions. With tips, people get your content for free and you make money via voluntary donations. And the latter locks your content behind a paywall.
You set the subscription price. And the subscription payment can be monthly or yearly. Naturally, the more people follow you and subscribe, the more you earn.
With tips, how much you make depends on the generosity of your fans.
Tips are a great way to make money on OnlyFans without showing your face.
As a new creator, the subscription method is probably the better option. More skill is required to get generous tips out of your free followers.
You can also make a killing by selling custom content!
FAQ: how to make money on OnlyFans without showing your face
Can I make an OnlyFans without my face?
Yes, you can. There is no rule against posting without your face. Follow all points mentioned in the article to stay anonymous while making a fortune.
How much can I make as a newbie on OnlyFans?
The amount depends on many factors like your niche, monetizing method, quality, and so on. So there's no exact answer here. But when starting, most creators make between $150 and $3500 a month, so you can expect something similar.
Can I trust OnlyFans with my identity?
This is the most trusted site to sell your content, and they had no issues in the past with leaking users' data. OnlyFans will likely never reveal your information, as it would hurt their business in a big way.
How long do I have to wait to get my OnlyFans without face account approved?
OnlyFans asks for 48 - 72 hours but normally it takes only 24 to get verified. Following some easy steps, you can finish the verification process in a single try.
Final thoughts: how to make money on OnlyFans without showing face
You're done with our complete guide on how to make money on OnlyFans without showing your face. Hopefully, it answered all the questions you had and got you one step closer to starting your OnlyFans (no face needed).
The life of an adult content creator isn't easy. Especially, if you don't want your friends and family to know about it!
Joining OnlyFans without showing your face is the best solution to this problem. And with all the promotion tips you got, not showing it won't even be a barrier to making thousands a month!