OnlyFans tip menu: What's it all about?
If you're here, you probably have the basics down and have your OnlyFans profile set up. (Here's a step-by-step guide on starting an OnlyFans in case you don't). Maybe you even have your first few subscribers already. But now is time to take the next step and create an eye-catching tip menu for your OnlyFans.
The consistent income you get from paying subscribers is great. But, if you play your cards right, there's a lot of money to be made from tips as well.
In fact, many of the top-earning creators make more money from tips and PPV (Pay-per-view) content than they do from their subs - which is saying something.
By following the steps outlined in this guide, you'll be able to do the same.
Decide what you'll offer on your OnlyFans menu
An OnlyFans tip menu is essentially a catalog of the content and services you're willing to offer along with the prices you charge. An OnlyFans price chart or an OnlyFans price list, as some call it.
The first step to creating an effective tip menu is determining exactly what you'll offer. Extra spicy photos and videos that haven't already been posted to your timeline are obvious candidates here. But there's a lot more you can do to make things interesting:
Dick Ratings.
Sexting.
Erotic voice messages.
Video dates.
Worn underwear. It shouldn't be too surprising that there is a sizeable market for worn clothing on OnlyFans.
Custom photos and videos. These involve much more effort than your usual content. You often have to cater to very specific requirements. So, it only makes sense to charge higher rates. If you can attract the right clientele, custom content can be very lucrative.
The girlfriend experience. Charge hourly or per day to act as your client's girlfriend. Being a girlfriend can involve conversing over video, sexting, or giving advice. But it can really go any way you want it to, as long as you're comfortable and have some well-defined boundaries in place.
Toy control session. A subscriber takes control of your remote-controlled vibrator during a live stream. Toy control has been one of the most popular innovations in the camgirl space lately. It's a massive turn-on for guys, and you can make a lot of money with this one.
These are the most common offerings on a typical OnlyFans content menu, but you have infinite room for creativity here. Talk to your fans, find out what they like, take their suggestions, and if an idea makes sense, why not give it a try?
If certain custom content requests repeat over and over, you can also include them directly in your menu to entice more subscribers to buy them.
You will get some OnlyFans tip menu examples later in this article. Do check them out; they'll come in handy when you get to creating your own.
More OnlyFans tip menu ideas
If you're an adult content creator, it's likely your explicit content that will bring in most tips. That said, not everything on your OnlyFans content menu has to be NSFW.
If you need more OnlyFans menu ideas for a more complete tip menu, you can offer plenty of extras.
Birthday wishes.
1-on-1 voice/video conversations.
Fitness advice.
Beauty advice and makeup tutorials.
Cameos and other personalized video messages.
Having wholesome interactions with your fanbase makes your primary content all that much more appealing.
Keep a lookout on where your audience's interests lie. Introduce something new every now and then to give them something exciting to spend their money on.
Determine rates for your OnlyFans price menu
Now you know what to offer - but what do you charge for these services?
For premade content, you can charge as much or as little as you want. Those are the photos and videos you've already produced. You just send them when an order is placed.
Some creators charge as little as $5 for complete content bundles. More established creators can charge much higher rates of up to $50 per pic.
For pre-recorded videos, anywhere from $1 to $10 per minute is reasonable. Again, rates here vary significantly with niche and content.
The effort required to deliver pre-recorded content has usually already been made. More orders only mean more profit. This incentivizes charging lower rates to get more sales.
For custom content, you should charge based on the amount and time it would take you to fulfill an order. Charge higher rates here so you're compensated appropriately.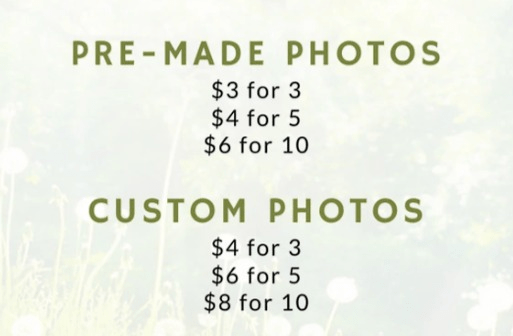 OnlyFans tip menu ideas - you can charge higher rates for custom content in your OnlyFans price list.
Remember that you can always adjust your OnlyFans menu prices if and when you need to. Don't worry too much about getting everything perfectly from the get go.
Try not to do it too often, though. Constantly changing prices can annoy the regulars and make you look unprofessional.
Check out the OnlyFans pricing menus of other creators in your niche. Doing so will help you identify your ideal rates when you're creating your own.
There are also some OnlyFans price list examples for you below.
How to make a menu for OnlyFans
You've learned what an OnlyFans tip menu is and what goes into one. Now, let's get to the meat of it and find out how to make an attractive and effective OnlyFans menu for your profile.
Find free OnlyFans menu templates online
If you're a newer creator, free OnlyFans menu templates will be a great resource for you.
You can find plenty of them online, especially on websites such as Pinterest and Reddit. There are some free OnlyFans tip menu templates in this article as well.
You can use a free OnlyFans menu template as is or make edits to give it your own touch. Customizing it is recommended, so it fits the vibe and theme of your OnlyFans page better.
Buy pre-made OnlyFans tip menu templates
Why buy an OnlyFans tip menu template when you can find them online for free? - You may wonder.
Pre-made OnlyFans tip menu templates are designed and put up for sale by experienced OnlyFans creators and professional graphic designers.
As you would expect, they're typically much higher quality than a free OnlyFans menu template would be. A better tip menu can translate to more orders and sales for you. If you have a sizeable audience, this could be a good investment.
Quick side note - You can write off any purchases here as a business expense on your tax returns. Want to learn more about OnlyFans taxes? We have a complete guide.
Hire a freelancer to make a custom OnlyFans tip menu for you
If you can't find any pre-made OnlyFans content menus that resemble what you want to show on your profile, you need a custom OnlyFans price menu. One that's tailored to your wants.
How well your tip menu turns out will depend largely on how effectively you're able to communicate your requirements to the freelancer.
Keep in mind that this route can end up costing a fair bit more than buying pre-made templates.
Design your own OnlyFans tip menu
Perhaps the simplest option: create a tip menu yourself.
If you're just starting out, this - and taking advantage of the free templates available online - will likely be your most viable option.
Designing your own tip menu is especially advisable if you have some experience with visual content or graphic design.
But if you don't, that's okay. You can use online image editing tools to create a tip menu for OnlyFans. Canva is simple, effective, and beginner-friendly.
Creating an OnlyFans menu that converts
Regardless of how you choose to go about making your OnlyFans tip menu, it's important you know about the best practices involved in creating an attractive menu that gets you orders and tips.
Deliver what's promised
Be very specific about what you're offering. Mention what your services do and do not include.
For example, if you're offering a girlfriend experience package, you should state:
How long the experience will last.
What you're going to do for your client. Will you be sending them nightly messages? Giving them advice?
Whether communications will be through text, voice, and/or video
Whether or not dirty talk/sexting is a part of the package.
Whether they get access to your socials.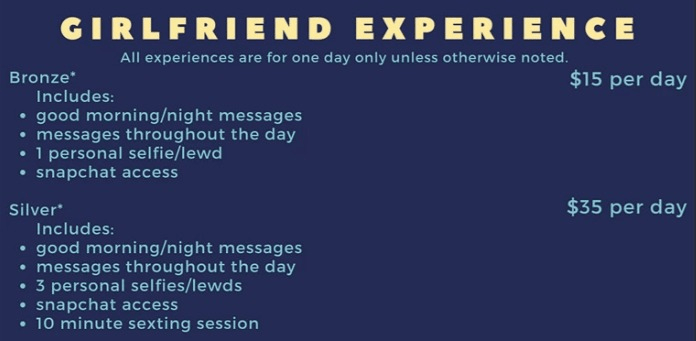 Explain what your services include in the OnlyFans tip menu.
Being specific allows your client to know what to expect right from the get-go.
Keep it simple
Here's a common mistake many newer creators make with their tip menus - they make too many offerings and stuff their tip menu with unnecessary text. This has the opposite effect you would expect it to.
Instead of more tips and orders, you end up with customers having to think and choose between multitudes of options.
A longer and more confusing decision-making process means customers are less likely to follow through on their initial desire to make a purchase.
Don't overcomplicate things. Stick to the known, and keep your tip menu simple. By all means, try to ensure some variety in there, but don't go overboard.
The benefits are two-fold. For one, you won't end up confusing potential customers.
But also - by including fewer services, you can offer higher quality with less work involved for you. Win-win.
Set boundaries
Only offer services you're comfortable with. Before initiating with a customer, set clear boundaries and stick to them throughout the course of your interaction.
Once you have your tip menu ready, pin it to your profile so it's immediately visible to anyone who lands on your page.

Pin your OnlyFans price chart to your timeline to ensure all subscribers see it.
You can optionally include it in your bio and welcome message, but it's not recommended. You get limited space in your bio and welcome message - this space is much better used to build up your profile and brand.
If you haven't yet developed a bio for your profile, check out these 10 OnlyFans bio ideas.
3 Free OnlyFans menu templates
Here's a gift to get you started. 3 free OnlyFans menu templates. Use them as they are or customize them however you like. If you're going to be creating your own tip menu, feel free to draw inspiration from these OnlyFans menu examples.
To edit a template, click View in Canva below. Then click File in the top left and Make a copy. Now you have the template in your own Canva profile.
Free OnlyFans menu template #1
View in Canva
Free OnlyFans menu template #2
View in Canva
Free OnlyFans menu template #3
View in Canva
Maximize earnings with an OnlyFans tip menu
Running a successful OnlyFans requires thought and strategy. Here's how your OnlyFans price menu should fit into the bigger picture.
Quality over quantity
Focus on delivering quality over quantity. This also ties back to our earlier discussion on offering fewer services but trying to overdeliver with each to ensure you have a happy and satisfied fanbase that keeps coming back.
You should ensure the content you're offering on your tip menu is unique and does not already exist somewhere on your timeline. If your fan finds out they paid for something available for free, you can bet they won't be happy.
Offer bundles
Bundles are a tried and tested formula. Offer various services collectively and with a little discount to encourage your customers to spend more.
Pre-recorded photos and videos are very easy to offer as bundles, but you have to be a bit more creative when applying bundles to your services. For example, girlfriend experience paired with a custom photo each day.
Interact and engage
This is all the more important if you're running a paid page. You need to interact with your audience regularly to get them to stick around. Ask questions in your post captions, join discussions in your comments sections, and listen to suggestions.
We share plenty of tips and ideas on how to go about engaging with your audience in our article on the best OnlyFans content ideas.
Promote your OnlyFans on Reddit
You could have the most beautiful and enticing tip menu in the world, but it won't do much for you if you're unable to draw traffic to your profile.
Competition is tough, and it's more important than ever that you actively promote your OnlyFans to build an audience.
By far the best way to do this is to promote your OnlyFans on Reddit. The platform has thousands of NSFW-friendly subreddits suitable for promotion. It's simple and effective, and you can get started right now with our step-by-step guide.
The only problem? Having to manually post images and videos over days and weeks - needless to say, can get a little tedious.
With Social Rise, you can schedule your posts with a single click to save yourself the time and effort. Our data-driven analytics and recommendations help you post effectively and get more subs.
No credit card needed
Sign in with Reddit
Post in minutes
FAQs about creating a tip menu for OnlyFans
How do I make a menu on OnlyFans?
You can make a tip menu for OnlyFans from scratch using online editing tools such as Canva. Or hire a graphic designer if you want a more professional product. Once you have your tip menu, pin it to your profile so it's visible to your audience.
Where can I find OnlyFans tip menu examples?
You can find plenty of OnlyFans menu templates and examples on the subreddits r/creatorsadvice and r/onlyfansadvice.
You can also simply look up the tip menus of other creators in your niche and draw inspiration from them.
Conclusion: The best tip menu ideas for OnlyFans
Here's how to make an OnlyFans menu:
Decide what you'll offer on your OnlyFans content menu. Brainstorm and think about the OnlyFans tip menu ideas that make the most sense for your business.
Produce an OnlyFans price list. Come up with appropriate prices for your content and services. Use other creators' OnlyFans price menus as inspiration.
Use a paid or a free OnlyFans menu template. It can serve as the foundation for your OnlyFans menu.
Design your tip menu for OnlyFans. You can also hire a freelancer to do it for you.
Pin your OnlyFans price menu to your profile. Optionally, include it in your welcome message.
Set clear expectations and deliver on what's promised. Interact with your audience, and use bundles and discounts to get more sales.
Promote your OnlyFans on Reddit to get more traffic to your profile and tip menu. It only takes a few minutes with Social Rise.