Can you start an OnlyFans without a following?
This is the major question here, so let's address it immediately.
Yes, you can start an OnlyFans and be very successful on the platform, even if you have no followers on social media.
Many top creators started their OnlyFans page without much of a social media following. They established their social media presence only after they made it big as an OnlyFans star.
Having an initial following is an advantage because some of these followers will visit your OnlyFans and convert to paying subscribers. The page will be up and running instantly, making money from day 1.
But that's about it. Think of it as merely having a head start. A huge head start, perhaps, depending on the number of social media followers the said creator has. But only a head start nonetheless.
If you're starting OnlyFans without a following, you have to put more effort into marketing and promotion to catch up.
The process is very straightforward. You don't even have to use social media platforms like Instagram and TikTok if you don't want to.
In this guide, you'll learn how to get followers on OnlyFans without social media. All you really need is a Reddit account and some know-how in marketing and promotion.
By the end, you'll know exactly how to start an OnlyFans without followers and build an audience for yourself from scratch.
But before getting into it, you must have the right expectations. Your growth on OnlyFans won't be explosive and instantaneous like it would be for an influencer who suddenly announced they're launching an OnlyFans.
Your growth will be gradual and consistent, taking some time. But if you do things right, you can start making upwards of $1000 a month within two months of starting.
How to start OnlyFans without a following in 9 steps
Starting an OnlyFans without following is all about planning for and nailing your entry into the adult creator space. Make no mistake; the market is very competitive, so starting off strong is essential.
Running an OnlyFans is a business. And, like most businesses, it will require time, effort, and money. If you gain your first few subs quickly, you'll be motivated to pursue further growth.
Most creators who start without a social media following struggle with establishing an initial audience on the platform.
So, what we focus on with this 9-step process is creating your account, kicking off a promotion campaign, and setting things up in a way that makes it easy for you to build your initial subscriber base.
When starting out, it's better to put slightly more emphasis on acquiring subs than making money. So, we'll use strategies such as having a low subscription fee or starting with a free page.
Once you have a decently sized audience, the next steps to growth and profit will come naturally.
1. Create your OnlyFans account
Step 1 is as simple as it gets. Create your OnlyFans account, and add your basic information to your profile.
Choose a username. Make sure it's catchy and easy to remember.
Select your profile picture and banner image. If you don't have images to use here right now, use placeholders and come back for adjustments once you've shot your first batch of content.
Write an exciting OnlyFans bio that tells users what your profile is about and encourages them to subscribe.
We have a complete guide on starting an OnlyFans for beginners, where you go through account creation and profile setup step-by-step.
While you're setting up your account, you'll also have to go through an identity verification process. It can be rejected for having errors in your application, so learn how to get verified on OnlyFans to get approved on your first try.
2. Think of your niche and create a content plan
Before you start shooting content, you need to think of your niche. You probably already have a vague idea of the type of content you'd like to produce.
Take this idea and refine it to a niche. Ask yourself the following questions:
What kind of content am I personally interested in or passionate about producing?
What kind of content am I comfortable producing?
Will I be starring alone, or will I have co-stars with me?
What kind of clothing am I going to wear? Will I be cosplaying or roleplaying as certain characters?
What's my target audience likely going to be? What are their tastes and interests?
Asking yourself these questions will help you narrow your niche and focus on producing content that aligns with your ideas and interests.
Once you've decided your niche, come up with a content plan. A content plan essentially outlines what content you will produce and when you will shoot it.
You don't have to create a content plan right now - you can get by your first few weeks without one since you'll be shooting a sizeable batch of content for launching your page.
That said, having one in place is recommended. It helps you stay consistent and get more content out in less time.
3. Shoot your first batch of content
As emphasized earlier, having a strong start is vital to quick success.
If a user lands on your newly created page and sees that it barely has any content, you can probably guess they won't subscribe.
That's why it's recommended to have some content uploaded to your timeline before you start drawing traffic from Reddit and other social media via promotion.
You can start with roughly 20 photos and 5 medium-length videos, but more is better. Keep in mind that you'll need unique content for promotion once your page is up and for PPV content later down the line as well.
Now, even if you have your niche down, you're probably wondering what content to produce and how to shoot and edit it. For that, there's no better resource than our list of the best OnlyFans content ideas.
4. Create a free page to build a quick initial following
It's time you learn how to make money on OnlyFans without a following. Once you have some content ready to post, create your first page.
You can choose between a free or a paid page. Paid pages have monthly subscription costs that you set. Remember that OnlyFans takes a 20% cut from this amount, and you have to pay taxes on it too.
Your first instinct may be to go with a paid page. But if you're only starting out and have no social media following to kickstart your journey, a free page may be the better option for you.
It's much easier to get subscribers with a free page. If you're concerned about profitability, know that there are plenty of ways to monetize free pages.
PPV (Pay-per-view) content and tips are the two most popular strategies, but many more come into play as you grow as a creator.
Sponsorships, brand deals, and merchandise sales are just a few of the many avenues you can eventually use to monetize your online brand.
Remember that you can always create a paid page later on. OnlyFans lets each creator have up to 2 pages. Quite a few of the top creators have both a free page and a paid page.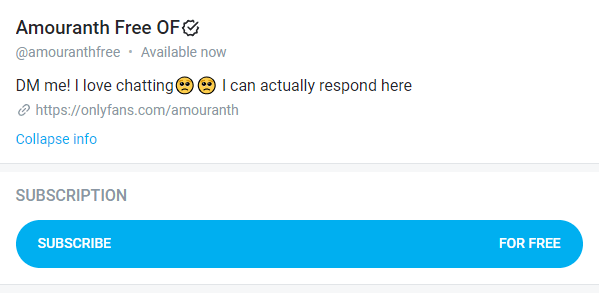 How to make money on OnlyFans without a following - consider starting with a free page.
Consider both options. While a free page can help you build an audience faster, a paid page makes more sense if you urgently need an income source.
If you start with a paid page, try to keep your subscription cost low to encourage incoming traffic to subscribe. $5 per month is great to start with. With only 200 subs, you'll be making $1000 per month in gross income.
5. Post consistently to your timeline
As soon as your page is up and running, start posting content from the batch you prepared earlier. Don't post it all at once, but post consistently and frequently so that any new subs you get during this time are encouraged to stick around by the continuous stream of incoming content.
Several times a day is ideal when you're starting out. You can tone your posting frequency down to once or twice a day once your profile is older and your timeline is nicely decorated with content.
6. Use Twitter and Reddit to promote your OnlyFans
Promoting yourself is all the more important if you're starting OnlyFans without a following. Pay close attention because this is how you will get most of your subs.
You see, the creator market on OnlyFans is very saturated. It's difficult to get visibility as a new creator.
You can't wait around hoping for your target audience to stumble upon your page. You need to go out there and make yourself visible to them to get their attention.
The two best platforms for this purpose are Reddit and Twitter. That's because they allow you to post NSFW content. Instagram, TikTok, and most other social media platforms will ban you if you post NSFW or link to your OnlyFans.
A slight caveat here: you must set your Twitter profile to sensitive before posting explicit content.

How to get followers on OnlyFans without social media - set your Twitter account to sensitive before promoting yourself.
Once your page is up and you've begun posting according to your content plan, it's time to start working on promoting yourself.
You essentially post a high-quality image or video of yourself and an enticing caption inviting viewers to check out your profile, where they'll find a link to your OnlyFans.
With each post, you draw traffic to your OnlyFans. A percentage of that traffic will subscribe to you.
That's the gist of it, but to do it effectively, you should go over our OnlyFans Twitter and Reddit promotion guides:
While you can promote your OnlyFans on both platforms simultaneously for the most benefit, that can get tedious.
If you're strapped for time and have to pick one to focus on, go with Reddit. Not only because you'll get more subs but also because you can use Social Rise to automate your promotion campaigns, saving you a ton of time and effort. Try it out now and see for yourself how much time you save.
No credit card needed
Sign in with Reddit
Post in minutes
7. Create social media accounts to grow your online presence
While TikTok, Instagram, Snapchat, Facebook, and YouTube won't let you post NSFW content, there's still some benefit to be had in having a presence on these platforms.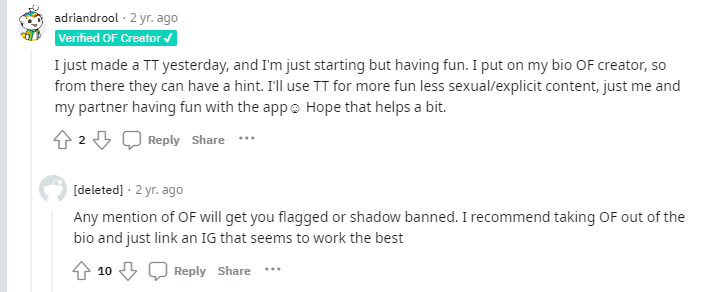 Starting OnlyFans without a following - you can't even mention OnlyFans on TikTok.
You can't link to your profile - you can't even mention OnlyFans without risking a ban - but if your content is somewhat suggestive, a small percentage of your followers will browse for and find your OnlyFans themselves. People can easily figure it out these days.
But besides traffic, consider that seeing a more realistic and wholesome side of their favorite creator is usually a pleasant experience for fans. Having some varied content will make your NSFW content on OnlyFans feel more authentic.
Think about it - whose content seemingly has higher value: Just another OnlyFans model, or a naughty and quirky social media influencer who also happens to have an OnlyFans page you can check out?
8. Network with other creators
Networking is vital for new creators. Start by networking with other new creators, as they'll likely be more eager to talk.
Ideally, try to acquaint yourself with those in your niche, as you'll have similar interests and potentially be able to collaborate.
Collaborations are a great way to expose yourself to new audiences. If you get the opportunity to star in a collab with a larger creator, strongly consider taking it.
9. Make gradual gains
If you've gone through all of the above steps, you now know how to start an OnlyFans without followers. You've got the basics down. Now, it's all about gradual growth and consistent improvements.
Reinvest in your business if you can. Purchase a better camera and get some high-quality lighting. Invest in props and details for your photoshoots.
Some creators even go as far as to rent professional studios (although it's probably only a good idea to do this once you're already making a handsome income).
Learn how to make edits and adjustments to your content to make it more professional and appealing. Canva is a great free tool for brushing up your photos and selfies.
And lastly, remember to be patient. Starting an OnlyFans without following is a time-consuming process. Keep going as long as you see gradual and consistent gains in your traffic and subscriber statistics.
If you feel stuck, review your marketing and promotion strategy. Use Social Rise's analytics to see your posts' performance and tune them for better results.
FAQs about starting OnlyFans without a following
Can you make money on OnlyFans without a following?
Absolutely. Here's how to make money on OnlyFans without a following explained simply:
Create a free page. More of your incoming traffic will subscribe, so you'll grow faster.
Create a tip menu. A tip menu lists all your offerings and services. It's a great way to monetize your audience.
Create PPV content. Pay-per-view content is more exciting, spicy, and 'premium' than the content you post on your free page. You sell it to your subs via DMs, or you can list it on your tip menu.
Sell custom content. Charge heavily for this service since you'll likely incur significant costs in delivering it.
How to get followers on OnlyFans without social media?
Promoting yourself on platforms like Reddit is the only real way to get more subscribers on OnlyFans actively. The platform has thousands of NSFW-friendly and creator-friendly subreddits you can post to.
Add a link to your OnlyFans page in your Reddit profile. That way, you'll send traffic from Reddit to your OnlyFans. Some of that traffic will subscribe to you.
And there you go: More followers on OnlyFans with no Instagram, TikTok, or Snapchat required!
Conclusion: How to start an OnlyFans without followers
In this article, you learned how to start OnlyFans without a following and how to be successful at it. To summarize:
Can you start an OnlyFans without a following? Absolutely. You just have to work harder to promote yourself.
Before starting your page, think of your niche and the type of content you want to produce. Come up with a content plan.
Shoot your first batch of content so you're ready for a strong start once you launch your page.
Choose between a free page and a paid page. Weigh the pros and cons of each, and go with what makes the most sense for you.
Start posting content and promoting yourself on Reddit. Be consistent with both to see results. Use Social Rise to automate your promotion.
Create social media accounts to expand your reach and make your content more valuable.
Network with other creators for unique ideas, valuable insights, and expert knowledge. Try to open yourself up to collaborations.
Be consistent, and be patient. If you're seeing gradual growth, you're on the right track. If you feel stuck, reevaluate your marketing strategy and examine your posts' effectiveness with analytics.