Why sell feet pics on OnlyFans?
But first - why start an OnlyFans for feet pics? Is it even worth the effort these days?
Well, if you're willing to be consistent and treat your OnlyFans feet account like an actual business, you can be making upwards of a thousand dollars a month. And many creators do.
That may not be life-changing money, but it certainly can be an excellent side income. If you're successful, you can scale upwards to make this your full-time gig.
And the thing is, being an OnlyFans foot model doesn't take up much of your time at all.
All you need to do is to create content in batches, schedule it for the week, and then work on promoting your page. I'll discuss each of these elements in more detail shortly.
But the point is, if you're efficient with your processes, you can launch and grow an OnlyFans feet business in as little as a few hours a week.
Another benefit to selling feet pictures on OnlyFans is that you can stay anonymous. It's possible to make a killing without ever showing your face by capitalizing on the ever-expanding foot fetish OnlyFans market.
You don't have to have exceptionally pretty feet to succeed in this line of business, but it certainly does help.
The truth is, there's a market for just about everything on OnlyFans. You just have to find the right people to sell to.
With that out of the way, here's how to start selling feet pics on OnlyFans.
How to sell feet pics on OnlyFans: step-by-step guide
Here's a complete beginner-to-advanced guide on starting an OnlyFans for feet pics.
1. Create your OnlyFans account
Of course, the first step has to be to create your feet pics OnlyFans. If you haven't already made one or if you feel your current profile could use some polish, check out our complete guide on starting an OnlyFans as a beginner.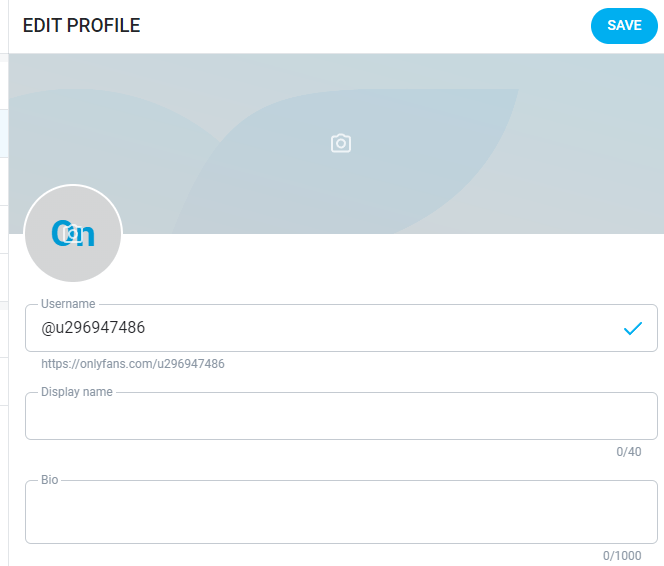 How to sell feet pics on OnlyFans - Step 1: create your profile.
The elements you really want to focus on are:
Your username and display name. Let your creativity run free here. Keep in mind that you can only set your username once, though. Go with something that can easily be associated with your niche.
Your profile picture and banner image. You can use a censored image of yourself or one that nicely features your feet in a pleasant setting.
Your bio description. Your bio is more important than you'd think. Coming up with OnlyFans bio ideas for feet pic profiles can be a bit confusing, though. Learn how to craft a beautifully-written bio with the ideas and examples in our OnlyFans bio guide.
Once you're done setting up your profile, you'll have to go through an identity verification process. OnlyFans takes this very seriously, so this can be a bit of a hassle if you're unprepared.
I recommend you implement the strategies mentioned in our OnlyFans verification guide to ensure you make it through to the process on your very first try.
You should also sign up for platforms made specifically for selling and buying feet pics. It's beneficial because sites like Feet Finder bring you their traffic. You can just post there without extra promotion, which is the most difficult task with OnlyFans (discussed later).
2. Shoot your first batch of feet pics
Once you're a verified creator, you can start posting. It's time to create some content for your first posts. Let's discuss how to take feet pictures for OnlyFans.
It's not necessary for you to be an expert model or photographer to shoot high-quality photos. While a professional camera would be nice, you can get along fine with a decent smartphone camera.
Most OnlyFans creators use their smartphones until they start generating a consistent income. At which point, they reinvest in higher-quality equipment.
There's a lot you can do to improve picture quality, even if the image is captured by a mediocre camera. Make sure to use your camera's best resolution and take pictures when there's plenty of natural light.
Now, you're probably considering what kind of feet pics sell best. There's no one type that stands out, but here are some of the more popular ones:
Tattooed feet
Barefoot
Socks
Soles
Feet with nail polish
Dirty feet
Feet with lotion
High heels
Ankles
Roped feet
Feet with BDSM gear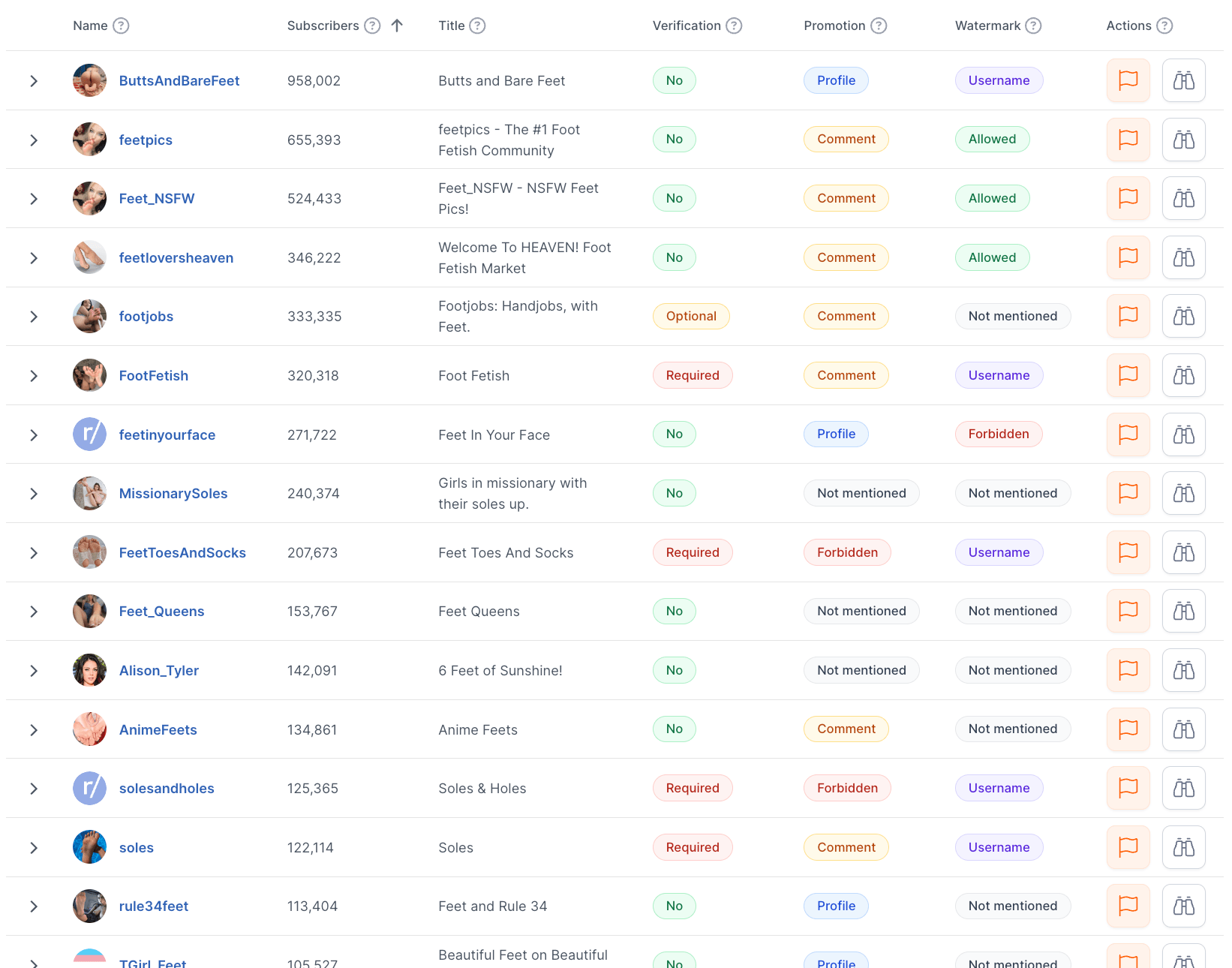 Explore foot fetish subreddits to find out what kind of feet pics sell best on OnlyFans
An easy way to get some ideas is by going over subreddits related to foot fetish. Reddit has thousands of NSFW-friendly subreddits perfect for carrying out research and finding out what's popular.
There is even a market out there for dirty feet, and it's okay to include some dirty feet pics in your catalog. The majority of foot fetishists do prefer clean feet, though.
Preparing your feet for a photoshoot session can be as simple as giving them a dip in warm water or as elaborate as getting a professional pedicure.
There are also various natural remedies you can employ to remove dead skin cells from your feet.
Consider brushing up your images with a free editing tool such as Colorcinch.
3. Start posting your feet pictures on OnlyFans
Once you have some images ready, start posting them on your OnlyFans page. It can be challenging to create variety in your content when you're restricted to feet pics.
Explore with different angles, settings, locations, and props. Try to get your page feed to remain colorful, vibrant, and interesting. Experiment with various feet picture poses to sell more images.
Feel free to get some OnlyFans feet picture ideas from your fellow creators as well.
If you're looking to serve custom requests, come up with a "selling feet pics menu" or a "feet pic price list." Check out our guide for creating a menu that sells like crazy! You can choose to pin it to the top of your page or send it to interested users in DMs.
Speaking of DMs, you can make some solid money here by using PPV content. Essentially, you DM your subs an image or video that they must pay to see. There is where the selling is done
Now, you may be asking yourself: "How much do feet pics sell for on OnlyFans?" While there isn't an exact average, you can expect to make anywhere from $5 to $20 per pic.
When you're just starting out, price your feet pics at the lower end of this range to remain competitive.
4. Promote yourself to grow your OnlyFans
OnlyFans doesn't have an internal search algorithm, so new creators have almost no visibility on the platform.
The odds that users stumble upon your profile at random at pretty low. It's essential to promote your OnlyFans to give your account a consistent influx of subs.
Really, you could do everything else correctly, but without a solid promotion strategy in place, your OnlyFans may not take off for a very long time.
This might be a bit disappointing if you were hoping to simply upload your feet pics to the platform and grow organically. But promoting yourself is probably nowhere near as complex or time-consuming as you may be thinking it is.
It's actually fairly easy. In essence, all you have to do is create enticing content and post it where the most people can see it. Some viewers will click through to your OnlyFans and subscribe.
This creator sums up the process quite nicely!

How to make money on OnlyFans with feet pics - you have to promote yourself to draw in subs.
Reddit is the best platform for OnlyFans promotion. Post your feet pics on one of the numerous foot-fetish-themed subreddits on the platform, and watch the subs roll in.
Promotion can be a bit time-consuming, though. You can use Social Rise to automate your Reddit promotion and make it more effective.
Save time by scheduling weekly posts with one click.
Schedule posts for the best times to get the most traffic and engagement.
Enjoy data-driven analytics and recommendations to see what works and what doesn't.
The best part? It's free. Give it a try today.
5. Improve the quality of your content as you go
In addition to marketing your OnlyFans, it's worth making a conscious effort to improve the quality of content on your page.
Once your OnlyFans starts paying off, purchase a ring light and a tripod stand. These two pieces of equipment are the bread and butter of high-quality photography. With the tripod, you'll also be able to take feet pics you wouldn't be able to otherwise.
This goes without saying, but you'll have to dedicate more of your attention to the health and hygiene of your feet as well. Get a high-quality pedicure kit, or invest in professional pedicures regularly to keep your feet in tip-top condition.
FAQs about selling feet pics on OnlyFans
Here I'll address some frequently asked questions to give you a clearer understanding of how to make money selling feet pics on OnlyFans.
Can you sell feet on OnlyFans?
You sure can! However, as always, there are some restrictions to be aware of.
You must be an adult. In other words, you can't be under 18. OnlyFans won't let you sign up to the platform if you are.
You must be able to access OnlyFans from your country. The platform is banned is inaccessible in some parts of the world. Even though you could access it with a VPN, you wouldn't be able to make it past the identity verification process if you don't have an accepted ID.
How much can you make on OnlyFans for feet pics?
Generally speaking, OnlyFans feet pics sell for anywhere from $5 to $20. How much you make monthly depends on how many you can sell in DMs as PPV media and your paid page's sub count.
How much do OnlyFans foot models make?
While there isn't such a thing as an OnlyFans feet salary, it's not unreasonable to expect to make a few hundred dollars a month, even as a beginner OnlyFans foot model.
Your OnlyFans feet pics income only grows with time, so it's entirely possible to make thousands of dollars a month if you're consistent.
Conclusion: how to sell feet pics on OnlyFans
Congrats! Now you know how to make money on OnlyFans with feet pics. To sum it all up for you:
Selling feet pics on OnlyFans can be very profitable and doesn't require much of your time.
Start by creating your feet pics OnlyFans profil. Pay special attention to your username, display name, profile image, banner image, and bio description.
Shoot your first batch of OnlyFans feet pics. You don't need expensive equipment just yet, but make the most out of what you do have.
Use Reddit for ideas. The platform has countless subreddits based on foot fetish. You can also look in creator-oriented subreddits for more advice on how to sell feel pics on OnlyFans.
Start posting content. Make sure your page doesn't end up looking monotone, which tends to be a particular problem with foot fetish OnlyFans accounts. Shoot from various settings, and feature distinct backgrounds and props.
Promote yourself on Reddit to grow your OnlyFans. This is really the only way to bring in more subs at first. Don't worry - we've got you covered. Social Rise makes Reddit promotion swift and straightforward.
Try to improve the quality of your content as you go. This means getting better equipment, taking better shots, and focusing on the health of your business's most valuable asset: your feet.