1.

You've authorized a new app in your Reddit account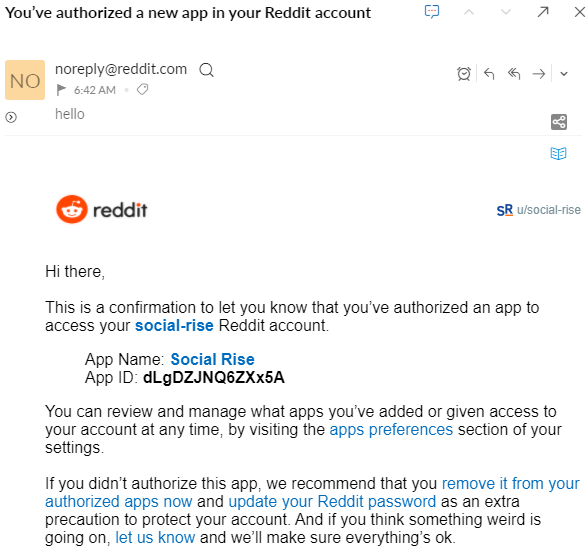 Email you receive when Reddit app authorization occurs with your account.
This is the email you receive when you've authorized a new app in your Reddit account by using it to sign in to a website or an application.
If you didn't sign in anywhere with Reddit lately, we recommend you don't click any links in it. Otherwise, if you're sure the email is legit, you can follow the links to Reddit to revoke app access.
We noticed that apps for browsing Reddit (Apollo, Relay for Reddit, Delay for Reddit, Reddit is fun, Boost for Reddit, etc.) are most reported as authorized without the user's knowledge. We can only guess why that is, but it certainly isn't the app's or its developers' fault.
2.

Remove authorized apps on Reddit

Now, let's see how to remove authorized apps from Reddit.

Just changing your password won't do it, because apps use access tokens to act from your account. Logging out of the app doesn't remove Reddit app permissions either. Here's what does:

We scheduled a Reddit post with Social Rise and revoked the app's access before the post was due. Here are 3 methods that were successful and stopped the post from submitting.
Change your password and deauthorize all apps - go to settings and change your password. You also have to select "Log me out everywhere". Do this if you think someone gained access to your account.
Deauthorize all apps without password change - go to account activity and submit the "Log out of all other sessions" form.
Deauthorize a single Reddit app - head to apps and click "revoke access" under the app's name.
You too, cut your posting time in half, get on the hot page and automate boring tasks. Try Social Rise to save time and grow your audience. Start for free in 1 minute.
Schedule a Reddit post
No credit card required
•
Post in minutes
•
Cancel anytime
2.1.

Restore app's access

If you'd like to give back permissions to an app, simply sign in to it with Reddit again.
3.

View all authorized apps

To see all apps connected to your Reddit account, navigate to apps (page is located in privacy settings).

Each app lists its permissions, description, and developers. If you click on the app's name, you are taken to its website. The apps need listed permissions to do what you instruct them (they don't act on their own). Hover over permission to see what it means.

Example of an authorized Reddit app.
To view what apps accessed your account, head to account activity. You can also see when and from where the account was used.
3.1.

An app is missing?

If you revoke an app's access by doing any of the above actions, the app will no longer be on the list. If that's not the case, check that the username in the email and the account you're using match.
4.

Can't deauthorize Reddit on mobile web

If you went on Reddit to remove authorized apps you probably noticed Reddit on mobile web (installed).

Reddit on mobile web is authorized automatically on every account.
This app comes with every account and its access can't be revoked. You don't have to worry about it, as it's a part of Reddit. The app is first-party and its only developer is Reddit.
Another example of such an app is Reddit Ads. This one authorizes automatically if you visit Reddit Ads while signed in.
Despite its name, Reddit on mobile web is authorized automatically, even if you never used the mobile website. We created a fresh account on a desktop computer, and the app was there.
For any questions about the mobile app, visit r/redditmobile.